BASKETS
Baskets are wonderful gifts, especially at Christmas. But they are enjoyable anytime of year and for any occasion. I have a big red one lay tissue paper in and let hang over the sides, a little. Fill with items for my family and deliver or leave it on the doorstep on Christmas Eve. This tradition is something they look forward to. Everyone goes to my daughter's on Christmas Eve, that's where the kiddies are. Christmas Day they head to "Grandma's" for more gifts and dinner.
Here are some suggestions for baskets but remember. It's you who make them "personal" and you can select from all the lists:
CHRISTMAS EVE

Pkgs of Hot Chocolate
Pkgs of Tea
Pkgs of Cappacinno
Candy Canes
Candy Sticks
Cheese and Crackers
Muffins
Fudge in Tins
Mugs
Book (Night Before Christmas)
Small Wrapped Gifts
Reindeer Food (Oatmeal & Glitter)*
Tree Ornament


TEENAGERS

Movie Passes
Video Rentals
Pens, Pencils
Art Supplies
Magazine
Gift Certificates**
Jewelry
Diary
Lip Gloss/Chapstick
Telephone Card
MadLibs
Mind Puzzles
Deck of Cards and Solitaire Book
Jigsaw Puzzle (3-D is a challenge)
Models
Computer Game

MOVIETIME

Movie
Blank Tapes
Microwave Popcorn or Jars of Gourmet Popcorn
Popcorn Popper
Seasonings for Popcorn (cheese, butter)
Decorated bags (to hold popcorn)

BATHTIME PAMPERING

Bubble Bath
Bath Salts
"Pouf"
Soaps
Blow Up Bath Pillow
Facial (Blue Mask)
Manicure Set
Cassette or CD
Candles
New Paperback
Champagne Glass and Single Serving Champagne
or Elegant Cup and Saucer and Packet of Flavored Tea
Chocolate Covered Cherries or Bon Bons

ITALIAN DINNER
(This is great for newly weds or new home-owner)

Spagetti Bowl
Bottle of Wine
Loaf of Italian Bread
Pkg of spagetti Noodles
Jar of Tomato Sauce
Parmesan Cheese
You can use 1 or 2 red and white checked T-towels to line the basket. For a more elaborate basket, add wine glasses, cheese grater, spagetti tongs

This great idea comes to us from Sharon Goldberg (Thanks Sharon for sharing)

Wicker or Grapevine Basket
Tablecloth and Matching Cloth Napkins
Two Crystal Glasses
Wine or Champaigne
Grapes
Brie and/or other Cheeses
Crackers or Fine Italian or other International Style Bread
* Mix oatmeal and a little glitter. Reindeer love oats and the moonlight on the glitter will help the reindeer find it. (Mom, better have dustbuster handy so the kids will see it gone on Christmas day.)
** For clothing, music, movies, video rentals, toy store

Have some suggestions for a Basket? Add to our current list? Please share them with us. And don't forget to leave your page address or e-mail address if you want it linked. Thanks.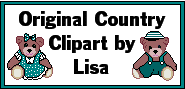 © Homespun Hideaway 1999, 2000, 2001; All Rights Reserved