GOOSE FROM MILK CONTAINER
1 gallon milk container (clean)
7 yds (approximately) eyelet, lace, ruffle in color of your choice (the wider it is, the less yardage you use)
eyes (wiggley, felt, beads) scrap orange felt
Soak Milk container in hot water to soften and cut (Fig 1).
Turn pour spout inside out. (Fig 2 and 3) Use pliers if necessary. Don't worry if it's messy, it will be covered. Lid should be removed if color is different than covering.
Beginning at the bottom back, begin gluing eyelet round and round (fill in around neck). Remove gathers from piece for neck so it is smooth. Glue in place.
Cover hole in spout with circle of felt. Glue rounds of eyelet beginning with outside edge and going to the top. This is the hat. Cut feet and bill from orange felt and glue in place. Glue on eyes.
SUGGESTIONS FOR USE
(Wedding Shower) - Fill w/pkgs of gravy, soups, spices, etc.
(Baby Shower) - Fill w/travel size baby items
(Hospital or Sick Person) - Fill w/lotions, toiletries
(Little Girl) - Fill w/brushes, combs, barrettes, hair stuff.
(Potted Plant Holder)
(Bathroom) - Hold an extra roll of toilet tissue
(Fill with Candy)
(Guest Room or Guest Bath) - Hold guest towels and toiletries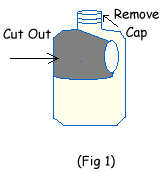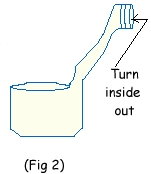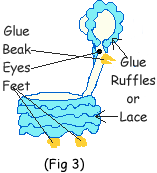 © Homespun Hideaway 1999, 2000, 2001; All Rights Reserved