Each year, the staff at the historic Biltmore House museum in Asheville, NC, recreates Christmas circa 1895 with authentic Victorian ambience. This means using natural materials and homemade ornaments -- ingredients you could try on your own tree this holiday season. Directions here are for Feather Wreaths, "Tussie Mussies", Pine cones and Pomander balls (also shown elsewhere on this site) and Ice Cream Cones.
FEATHER WREATHS
Cut the center out of a 3-inch circle of cardboard. Trim craft feathers into 1-1/2 to 2-inch pieces and layer onto the cardboard "doughnut" once it has been completely covered with craft glue. When first side is dry, repeat on the other side. Decorate with bows, beads or glitter; hang with ribbon.
TUSSIE MUSSIES (1)
These decorative nosegays of dried silk or paper flowers also can be used to adorn your holiday dinner table. Start with a rose with a 6-inch stem. Circle with smaller flowers with shorter stems, then with ferns, tiny flowers or baby's breath. Wrap wire stems together, push through a paper doily, secure with floral tape. Finish with a bow and streamers below the doily. Attach to the tree by the wire stem.
TUSSIE MUSSIES (2)
Draw a circle on the back of a piece of heavy wrapping paper using a dinner plate. Cut the circle in half, roll into a cone, and glue together. Cut a 6" or 7" doily in half. Tuck it into the cone and glue so that it extends above the cone. Cut a 6" piece of tulle and drop potpourri into it. Gather up the tulle and tie with thread. Place the potpourri in the cone. Secure around the edge with glue. Wrap the ribbon around the cone and tie into a bow.
PINECONES
Hang from red velvet ribbons.
POMANDER BALLS
Made of dried fruit and fragrant spices. The Victorians hung these ornaments from curtains, in closets, above doorways and on Christmas trees. Stud apples, pears, oranges, limes or lemons with whole cloves, shake in a paper bag with cinnamon and ground orris root, then dry for about two weeks, turning from time to time. When dried, wrap the scented balls in a square of net tulle and tie with a ribbon at the top.
ICE CREAM CONES
Glue a styrofoam ball atop each sugar cone, then glue on a circle of cotton batting, making "drips," and sprinkle with glitter. Or cover the balls with glue and sprinkle with potpourri mix. To hang, glue ribbon to both sides of each cone, then pin for extra security.

If you have something to share or a site you'd like to link to this site (must be safe site for all ages) please let me know.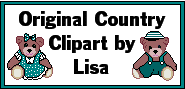 © Homespun Hideaway 1999, 2000, 2001; All Rights Reserved