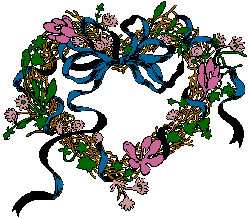 WREATHS
PERSONAL WREATH
Making a personal wreath is very satisfying, rewarding, and lots of fun.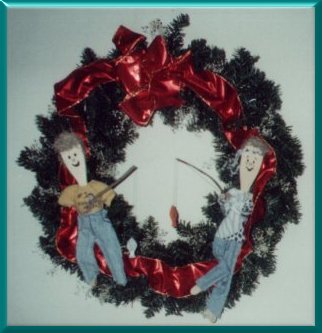 One Christmas, my daughter and I made two fishermen on a wreath we decorated with statice, plaid bow, tiny gold balls, etc.
We used a wooden spoon for the body and head. (See craft Wooden Spoons.) Painted a face (two dots for eyes and a big half circle for smiling mouth). A small wooden ball (the size of a small pea) was glued on for the nose. You can add freckles if you like. We glued on some kind of dried grass (you buy it in a pack and I forgot the name) for hair. We cut the shape of a t-shirt from an old t-shirt, and the shape of blue jeans from an old pair being cutoff for shorts (two of each and glue together), and glued them on the spoon. You can stuff some batting or cotton inside for a dimensional effect.
2 small wooden spoons (like you eat ice cream with) fat end we painted to look like tennies. 2 small wooden spoons narrow end became the hands. A chenille stem or pipe cleaner for the arms and legs allows you to shape. I found two twigs in the woods to use for fishing poles. A small spool (you can buy these in a pack in the wooden items in your craft store) became the fishing reel. We strung black thread (we wanted the fishing line to be somewhat visible) and hung a wooden fish on the end. You can paint the fish, but is just as cute unpainted. Use felt tip pen to make eye, gills and scales, if wanted.
This wreath was a big hit for our "boys" (actually grown men) and we had a lot of fun doing it. The rattier it looks, the better. You can personalize any wreath. Everyone at work was picking up on this and we saw many outstanding wreaths with lots of personality. (H-m-m-m, what a great contest this would be!)

PLASTIC BAG WREATH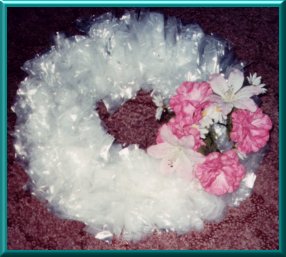 1 wire coat hanger
125 plastic sandwich bags (Baggies) (no zip lock or fold lock)
Trims (flowers, bows, picks, anything)
Shape wire coat hanger in a circle with hook at top for hanging. You may want to bend the hook down or close it.
Fanfold sandwich bag (in 3rds) and tie on hanger. Continue until wreath is filled. Fluff bags up (pinch and pull) until you can no longer see the tied area.
Attach trims and hang.
Note: You can use strips of other bags as well. i.e., green trash bags for a green wreath.
Note 2: These also make great candlerings for your large round candles.

If you have something to share or a site you'd like to link to this site (must be safe site for all ages) please let me know.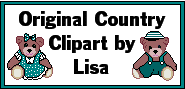 © Homespun Hideaway 1999, 2000, 2001; All Rights Reserved