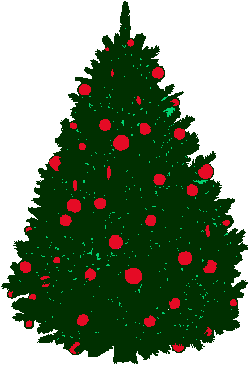 TREE ORNAMENTS

Tassel Angels
1 tassel
1 round wooden ball (or ready made head) about 3/4"
hair
cord, braided
ribbon, gold filagree (stiff)
gold wedding rings or gold cord
flower or rosette
Glue ball on top of tassel. Glue hair on ball. Put cord through top of tassel and bring to front (hands) and glue flower on hands. You may wish to use a book instead. Make book from paper, paint notes and music bars inside. Glue wedding ring or cord on top of hair for halo. Make one loop bow from stiff gold ribbon and wire or tie together in middle. Glue on back of tassel (angel) at top of shoulder for wings. Paint face, if desired. (Use colored tassel and omit wings and halo for doll.)

Clothespin Angel/Doll
1 push type clothespin
1 3" wide lacy ribbon (12" long), gold
1 1-1/2" wide lacy ribbon, gold
1 1" wide lacy ribbon, gold
twisted cord or braid, white
small rosette, gold
hair
1-1/2" wide filigree ribbon, gold, 8"
gold cord, for hanging
gold cord, thicker for halo, or wedding ring
Layer around clothespin at ridge largest first, medium, small on top. Glue 4" piece of cord to back of clothespin under top (small) layer and join in front (hands). Glue small rosette on hands. Glue hair on top of clothespin head. Form one loop bow from filigree ribbon and wire together in middle. Glue to back of clothespin to form wings. Glue loop of gold cord for hanging. Add halo of thicker gold cord or wedding ring for halo.

Covered Ball
clear glass ball ornament
tulle
Place clear ball in circle of tulle. Bring up sides and secure with wire, ribbon, rubber band, etc. Add ribbon and rosette around neck. Decorate front with applique, pearls, rosettes or rosette ribbon.

Hanging Potpourri Ornament
1 orange
1 box whole cloves
1 piece of nylon net or tulle 12 x 12 (approximate)
1 ribbon, cord or hanger of your choice
With skewer, bobby pin, etc., punch holes in orange. These can be punched randomly or in a pattern. Holes should be spaced a little apart as orange shrinks when it dries. Insert cloves. Lay orange on nylon net and draw up all sides. Put rubber band around top to keep it wrapped securely and tie ribbon or cord around it. Add loop for hanging. Tie bow and leave ends hanging, but not too long. Add trim if so desired. Now doesn't your home smell good?

Puzzle Piece Wreath
Lay out a ring of puzzle pieces. Do not overlap. Glue a second row on top of the first row laying each piece over the space between 2 pieces on the bottom. Repeat for a 3rd row. Using dimensional gold glitter paint, outline the puzzle pieces. Add ribbon and hanger.
NOTE: Before outlining you can spray the wreath gold or green. You can also attach seed beads as holly berries in a cluster of 3 around the wreath.






© Homespun Hideaway 1999, 2000, 2001; All Rights Reserved