PLASTIC CANVAS
Miniature Easter Basket Halves

(use as a magnet, a pin, or double the basket width and make a complete basket as a favor)
Small pieces of plastic canvas
Small piece of felt
Small piece of card stock (or recycled greeting card back)
Grass or cut up paper
Small jelly beans, flowers, bunny, etc.
Magnet or pin back
Cut plastic canvas as follows:
(Basket)
Width - 19 bars (add more for a fuller basket)
Height - 9 bars
(Handle)
Width - 2 bars
Length - 32 bars (or lenth of your choice)
(Back)
Width - 13 bars
Height - 9 bars
Stitch basket portion however you want or follow these. Join with back piece (I do not stitch back piece). Join handle.
Glue felt to card stock. Set basket on top of card stock and lightly trace around outside of basket. Cut and glue to bottom of basket.
Fill basket with grass. Add small jelly beans, flowers or a bunny.
NOTE: You can paint jelly beans to look like decorated eggs.
Add magnet or pinback.

Flower Magnets

Put them side by side and create a border on your frig

Cut your grid in a rectangle 14 bars wide and 21 bars high. Flower portion is 12 bars by 12 bars.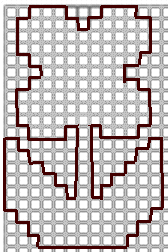 Coasters

I always keep a supply of squares (26 x 26) around and if I do a design I like and that will fit, I repeat it on the square, fill in the background, add another square for backing (I think felt gets icky) and whip stitch around connecting the back. Then I toss it in a basket I leave out. No, my coasters don't match, yes I have a lot of them, but visitors seem to enjoy picking through them, grandkids play with them and you can make all kinds of stuff from them. (1) Such as 6 makes a box, just leave 3 sides of top unattached. Add a loop of yarn to top, a button to top front and you have a hook. (2) Attach about 3 (diamond shape) of them to a wide ribbon about 2 inches apart and add a hanger or bow at the top. Hang in a narrow area. (3) Join 4 together for a patchwork trivet. NOW FOR THE BEST PART: Put on top shelf of dishwasher and they wash up beautifully. Cheers!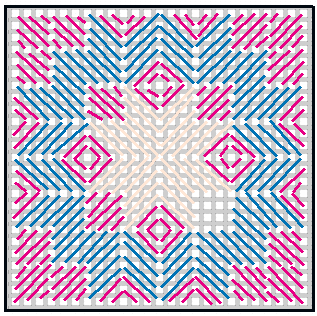 Flower Vase Magnet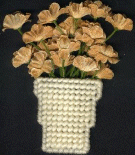 I like using the scraps from other projects and this is a great little tuckaway magnet. Put it in a birthday card, a gift, or pop it on the frig door whereever you go to visit. This little project is only 9 bars wide by 14 bars high. Cut two for each vase. Join two sides and bottom with whip stitch around outer edge and whip stitch across the top front and the top back. Stick some flowers in, add a magnet and presto.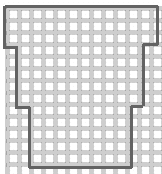 TIPS
Keep an emery board handy when cutting PC to file off the burrs or rough edges. Especially good on corners.
When cutting over and down repetitively (like stairsteps) cut from top to bottom diagonally. A knife and ruler are better than scissors for this type of cutting.


If you have a project, tip, or idea for plastic canvas, won't you share it with us? Thanks.





© Homespun Hideaway 1999, 2000, 2001; All Rights Reserved